Anne Black – Braveheart Manager
Anne was appointed as Manager of Braveheart in October 2011 and brought with her more than 20 years experience of managing charities. Anne trained as a teacher and went on to achieve an MBA and further qualifications in leadership in the third sector.
Anne has enjoyed the challenge of working with volunteers, staff and Board to make a real difference in the health and wellbeing of many people in the Forth Valley area. 40% of the population are estimated to have one or more long term conditions and Braveheart is committed to finding ways to reduce that figure and support people to self manage. Anne is excited about current developments, working with the Braveheart Board, the NHS and local people to find ways of effectively engaging with communities where there are health inequalities.
When not working or volunteering, Anne enjoys spending time with family; travelling, particularly in the Scottish Islands; and is a great lover of nature and animals.
.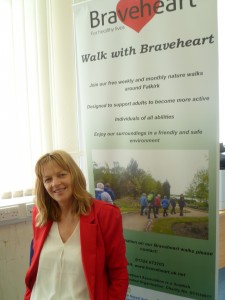 Maureen Forbes – Support Worker
Whilst working in finance and business and raising a family, making time for volunteering was always important to Maureen. Joining Braveheart in 2003 as a volunteer Health Mentor she was greatly impressed that by giving a few hours of time, she could support people working to improve their health
Maureen says "I think Braveheart has a wonderful ethos, it's all about encouraging people to help themselves and linking people in the community together. Good health is so important" Maureen took up the role of Support Worker in January 2007 and since then she has been really happy to play a part in Braveheart's growth and development. In her free time, you'll normally find her in a swing park or jumping in puddles with the grandkids!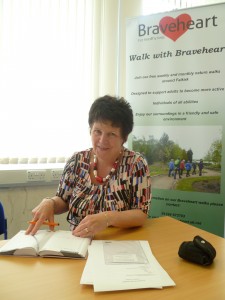 Eva Finlayson – Volunteer Co-ordinator / Walking Development Officer
Eva joined Braveheart in February 2014 following on from University; achieving a 2:1 honors in Physical Activity and Health at Abertay University, Dundee. She thoroughly enjoys her role in supporting older adults to become physically and socially active within their community and being able support individuals with varying needs. Furthermore, recruiting, training and empowering local volunteers to support our community.
Eva's interests are being outdoors, keeping active, travelling, and spending time with her young family.
Eva won Paths for All's 'Volunteer Manager of the Year' award for Scotland, in 2017.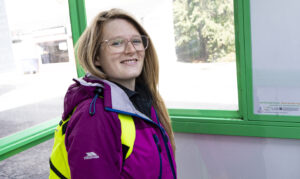 Iain Currie – Top Toes Finance and Administration Assistant
After working with a waterways Charity, The Scottish Waterways Trust for 13 years, Iain joined Braveheart Top Toes in 2019 as a volunteer receptionist.
With a background in IT, Finance and Administration he joined the team as an employee in June 2022. His role involves providing general IT and administration work for Top Toes.
In his spare time Iain likes to play badminton at his local sports centre and golf (He is currently looking for another golf course).
Iain is happy to be part of The Braveheart Association, working as an Administration Assistant for Top Toes
Munira Farara – Living Well Co-ordinator *Coming Soon*
Eleanor Paterson – Top Toes Development Officer *Coming Soon*
Rumbie Muza – Top Toes Development Officer *Coming Soon*