Anne Black – Braveheart Manager
Anne was appointed as Manager of Braveheart in October 2011 and brought with her more than 20 years experience of managing charities. Anne trained as a teacher and went on to achieve an MBA and further qualifications in leadership in the third sector.
Anne has enjoyed the challenge of working with volunteers, staff and Board to make a real difference in the health and wellbeing of many people in the Forth Valley area. 40% of the population are estimated to have one or more long term conditions and Braveheart is committed to finding ways to reduce that figure and support people to self manage. Anne is excited about current developments, working with the Braveheart Board, the NHS and local people to find ways of effectively engaging with communities where there are health inequalities.
When not working or volunteering, Anne enjoys spending time with family; travelling, particularly in the Scottish Islands; and is a great lover of nature and animals.
.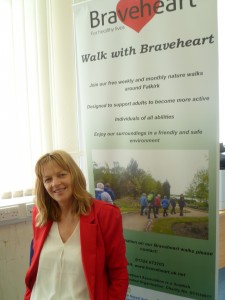 Maureen Forbes – Support Worker
Whilst working in finance and business and raising a family, making time for volunteering was always important to Maureen. Joining Braveheart in 2003 as a volunteer Health Mentor she was greatly impressed that by giving a few hours of time, she could support people working to improve their health
Maureen says "I think Braveheart has a wonderful ethos, it's all about encouraging people to help themselves and linking people in the community together. Good health is so important" Maureen took up the role of Support Worker in January 2007 and since then she has been really happy to play a part in Braveheart's growth and development. In her free time, you'll normally find her in a swing park or jumping in puddles with the grandkids!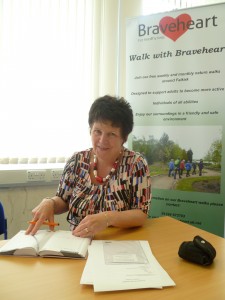 Eva Finlayson – Walking Development Officer, Falkirk
Eva joined Braveheart in February 2014 following on from University; achieving a 2:1 honors in Physical Activity and Health at Abertay University, Dundee. Eva's interests are the outdoors, keeping active, and she loves to travel.
Along with Braveheart, Eva also works with Forth Valley Disability Sport leading on their 'Get out Get Active' project. With joining Braveheart, Eva hopes to increase opportunity for older adults to become physically and socially active, through walking, within their community and support individuals with varying needs. Furthermore, encourage everyone to access local paths and green space.
Eva won Paths for All's 'Volunteer Manager of the Year' award for Scotland, in 2017.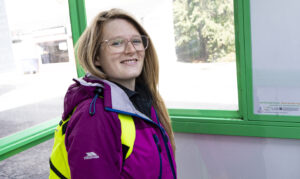 May Richmond – Walking Development Officer, Clackmannanshire
May originally worked for Braveheart back in 2010 delivering both the Mentoring project and the Walking programme and joined the team again in 2019 as Walking Development Officer for Clackmannanshire.
She is a qualified Exercise Referral Consultant and was one of the first people in Britain to gain the British Association of Cardiac Rehabilitation qualifications. She is very passionate about the outdoors, a keen hill walker and is often away in her tent at the weekends exploring our Bonnie Scotland.
Maureen has been an active member of the Third Sector for over forty-five years both as a volunteer and a paid worker. Previous roles include Chief Executive officer of CVS North Lanarkshire North, Community Consultant, Organisation Support Officer and Funding Officer.
Maureen's current role is to Develop Forth Valley Top Toes for Braveheart within the Falkirk Council area delivering a qualitative toenail cutting service to adults' who can no longer cut their own nails due to age or disability.  Maureen heads up a team of fifteen volunteers who deliver the Top Toes service at three locations – Braveheart Connections, Meadowbank and Bonnybridge Health Centre's.
Doreen Fullerton – Forth Valley Top Toes Development Officer  
After a long career with Falkirk Council spent working out in the community with many voluntary groups and committees, Doreen took early retirement in 2017.
However, with her family grown and heading off to university she missed working within the third sector and seeing the positive impact that community involvement can achieve.
In her spare time, she enjoys knitting and finding new walking routes for her rescue dog Misty.
She is delighted to be part of The Braveheart Association as a development worker within Top Toes.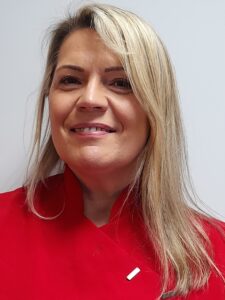 Lee Stevenson – Organisational Development Officer 
Lee joined Braveheart in October 2021. Her role is to provide practical support and guidance in the governance, financial management and procedural controls within Braveheart.
As well as Braveheart, Lee is also the Organisational Development Officer for Stirlingshire Voluntary Enterprise (SVE), the Third Sector Interface for Stirling, where she has been employed for over 14 years. She mostly supports the setting up of charities and other third sector organisations, encouraging good practice in Governance and Financial Management. This includes preparing and delivering training in Governance, Finance Systems, Legal Structures, Preparation of Accounts as well as facilitating bespoke Development Days for organisations, based on their strategic requirements.
Lee is a full member of the Association of Charity Independent Examiners (ACIE) and has been the Scottish representative on the Board of Trustees for over four years.
'The favourite part of both roles is seeing organisations develop and grow, through understanding their governance role and putting in systems that show good practice'.
In her spare time Lee enjoys playing pool, she has been in the Falkirk Men's League for over 16 years (one of two ladies), and being part of a quiz team called Densa!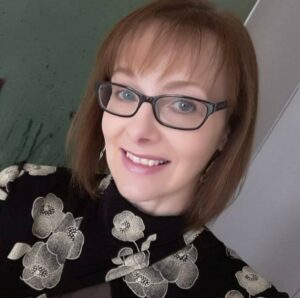 Munira Farara – Health Development Officer *Coming Soon*
Joyce Kent – Volunteer Coordinator  *Coming Soon*