This project is supported by:
Healthy Living Groups
Are you ready to make some small changes that will have a big impact on how you feel and on your health?
If you're ready, Braveheart's Healthy living Programme is the basic guide that can provide you with the information you need to know and help you to meet some of the challenges that might get in the way.
The healthy living programme is a FREE service which supports participants to reach personalised lifestyle goals relating to; healthy eating, increasing physical activity, alcohol reduction, smoking cessation, managing stress and achieving a healthy weight through Flexible support options including talks, workshops and, group programme sessions.
Healthy Way with Braveheart
Weight Management Programme and Healthy Lifestyle Programme
Achieving a healthy weight is an important step to promote your physical and mental health and it isn't easy!
Join Our weekly structured lifestyle modification and weight management programme designed to support positive lifestyle changes in order to lose weight, reduce individual's risk of developing type 2 diabetes, cardiovascular disease and other lifestyle related illness.
The Braveheart approach to weight management provides you with a high-level of support to help you build life-changing skills so you can achieve and maintain your best weight.
Group sessions are delivered by trained local trained health mentors in your community. They offer a positive and supportive environment to share and learn as a group, while working on your own personal health goals.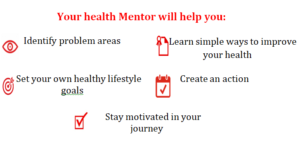 You can complete the programme at your own pace over an eight, ten or twelve week period.
After you have finished the programme, you can move into the maintenance programme which will give you access to tools and resources for another nine months to help keep you going. Or if you feel you would like more support you can do the programme again.
Support along the way
You will have access to a variety of supports and resources along the way to help make your journey successful and enjoyable
My Health For Life
Self –Management Programme for Long-term Health Conditions
The programme aims to empower adults from Ethnic Minority Groups in the Forth Valley area living with a Long Term Health Condition by enabling them to develop the necessary knowledge, skills and confidence to self-manage their conditions on a day-to-day basis effectively and know how and where to access follow on support so that they can have optimal quality of life and well-being.
Join the programme and gain the support you need to develop knowledge, skills and confidence to be able to meet the demands of living with a long-term health condition. It's also an opportunity to meet other people facing similar situations in a friendly environment to share experiences and ideas.
The programme will be delivered by trained health mentors and will provide you with tips, tools, and ideas how to take care of your health condition, for example how to:
Live a healthy life by addressing Lifestyle factors such as nutrition, physical activity, smoking, and alcohol, stress, sleep and weight
Manage the emotional changes and optimise your health and wellbeing.
Adapt to diagnosis and understand your long-term condition, medications and treatment.
Communicate with your health providers, family and friends.
First of our healthy living videos, managing high cholesterol. Enjoy & share. Special thanks to Anas Farara for the wonderful voice over.If you'd like more support on this topic then please contact munira.farara@nhs.net

Posted by The Braveheart Association on Wednesday, 13 May 2020
FAQ
The groups are for people who want to improve their current state of health or want to prevent many of the common ailments
You can join if you:
 have Type 2 Diabetes, Coronary Heart Disease or any other long term condition 
 want to improve your overall health
want to lose weight or maintain a healthy weight
The groups are run by our trained volunteer health mentors.
Health mentors will discuss a range of subjects around healthy eating and physical activity, and they will guide and encourage you to gain the insight and knowledge you need to reach your goals. You'll receive
1 – 11/2 hour sessions
a variety of handouts
peer support and motivation
Braveheart is unique in that we will come to your community to run a group. As soon as we have 8-10 people in one area, we can get the group started!
The sooner you register your interest, the sooner we can get another group going!
We can also offer the programmes to community groups that are already running, either during your group sessions, or on a different day.
Groups will meet according to the wishes and availability of participants
Contact:
Munira Farara (Living Well Co-ordinator)
01324 673702 / 07747457418
munira.farara@nhs.scot